Tigers Mind Paradiso Pudding Mix
JVT0015 (Jvtlandt, 2017)
CD / LP
12" vinyl
- Select your location under Shopping Cart to see prices -
- 価格を確認するには左のカート内にある地域を選択してください -
CD in digipak
- Select your location under Shopping Cart to see prices -
- 価格を確認するには左のカート内にある地域を選択してください -
All CD orders: FREE SHIPPING WORLDWIDE
すべてのCD:送料無料
1. Magma Holtz (06:08)
2. Uncertainty Matrix (07:35)
3. Syrian Walk (02:49)
4. Three-Step For Kyhl (03:06)
5. Mid Haste (15:52)
All music by Tigers Mind
Recorded by Martin Hoshi Vognsen and Tigers Mind
Mixed by Niklas Adam and Martin Hoshi Vognsen
Mastered by Niklas Adam
Artwork by Niklas Adam and Lasse Marhaug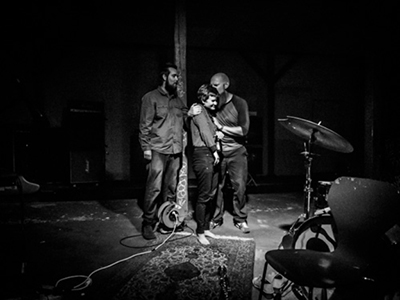 Paradiso Pudding Mix is a kaleidoscopic mashup in 5 sections drawing inspiration from early electronic minimalism, punk rock, noise and free jazz. It is shaped to be taken in as a whole; it is Tigers Mind's full-length debut following their self released EP, "the fish tape".
Scandi trio Tigers Mind plays improvised music whose aim is transcendence, via ascendant sonic assault, acting static object and sparse melodic progression. Inspired by conscious expanding techniques and ritualistic music, always aiming for tapping into the music's primitive, physical and anti-intellectual subcutis.
They present simple patterns, elegance and melody contrasted with bursts of dynamic primal explosiveness. Saxophonist Danielle Dahl uses higher harmonics and splits overtones to blend with the metallic sound of drummer Thomas Eiler's timbral explorations and tattered rhythms. Niklas Adam delivers a mix of harsh unwieldy guitar, electronic walking bass, melodic percussion and fortunate digital incidents.
Tigers Mind are interested in exploring eclectic referencing and extreme sound practices: high pitched piercing sounds, churning drones and cacaphonic free jazz. The group's sound is distilled from a broad range of influences, leading to a diverse and unpredictable universe of musical expressions.
Tigers Mind has existed since 2010 and toured in Japan, Germany, Austria and Scandinavia. The group has collaborated on stage with Margaret Unknown, Travis LaPlante, Susanna Gartmayer, Katsura Yamauchi and Mattin.
Danielle Dahl:
Norwegian composer, performer and improviser currently situated in copenhagen, denmark. She is an active figure on the danish underground music scene and is deeply involved with a diverse array of sound practices: acoustic improvised music, techno and electronic dance music, noise, songwriting, minimalism and ritualistic music, as well as working as a composer with classical ensembles, usually with a cheeky and somewhat conceptual approach to the contemporary music world. As a saxophonist she is interested in psychoacoustic phenomenons and exploring extreme extended techniques, mainly on the alto and sopranino saxophone, and she has worked with, among others, Daniel Lercher (AUT), Paul Lovens (DE), Niklas Adam (DK) and Anders Vestergaard (DK).
Thomas Eiler:
Danish drummer, resident of Aarhus. A steady voice in danish experimental music, both as a bandmember, sideman and soloist.
Loves the danish weather with its shifting seasons, collects bicycles from bits and parts, and is currently fascinated with lyrics in the native tongue, but is a lousy singer. Still trying to find the perfect mix of oil and vinegar for the marinade in homemade Ramen.
He is 1/4 of the common man's avantgarde group Svin, 1/2 of Bad Astma with Maria Bertel of Selvhenter and has worked with Frisk Frugt and many others.
Niklas Adam:
Danish artist, currently residing in Oslo. An active figure in Oslo's experimental music scene both as a musician and as an artist producing electronic and kinetic installations. His work is both demanding and patient. The last year he has mainly been occupied with interdisciplinary collective works in the context of theater, which has been performed at Brooklyn Academy of Music, On The Boards, Kampnagel among other places.
REVIEWS
Real nice dose of try-anything free blat from a Scandinavian trio designating themselves Tigers Mind. Their Paradiso Pudding Mix (JVTLANDT JVT0015) is pretty much their first real outing, unless we count The Fish Tape EP which they self-released earlier, so obscure that we can't find out any facts about it. Besides the nutty title to this release, there's also the wild front cover art which dares to answer the question "what if Dali had been a video artist?", plus suggestive tune titles such as 'Uncertainty Matrix' and 'Magma Holtz'.
Using just sax, drums, and electronic spew these three Nordic funsters are capable of brewing a decent ear-splitting racket which lifts off from zero-to-sixty in nothing flat, but they're attempting a lot more than that…like every other hopeful nowadays, they profess an interest in many forms and genres of music, and are broadly aiming for some new twists on the areas of free jazz, improvisation, and electronic avant-garde composition, with at least one beady eye edging over to the well-trod corner marked "noise". In their case, a lot of the effort is directed towards strong extremes of volume and activity, which effectively means there are multiple instances which will knock you out of your perch with their loud volume and frenetic action, as contrasted with the more detailed, exploratory and quieter passages. They're also great at leaving strange gaps in the performances, torn-out holes that leave us slightly puzzled in a good way, false starts and false stops.
While all this may strike you as contrived as all-heck, I think the Tigers are going at it with a real determination, working hard to create something genuinely innovative. I feel a band are onto something when the results are mystifying and odd, as though not even the makers know quite where they're going with it, and at such moments we glimpse genuine freedom through the cracks. Such a vibe emerges for me on today's spin of this particular pudding mix. The makers of the mix are Danielle Dahl, a frankly superb saxophonist who knows when to shut up and when to rend the air with harsh squeals as the occasion demands. Hear more of her in the band Moonbow, or on the Danish label Abstract Tits. Drummer Thomas Eiler also plays in Danish quartet Svin, another free jazz combo. He's credited here with providing a "metallic sound" from his drums. Lastly there's Niklas Adam, a guitar and electronics whizz who generates exciting sparks and crackle from his set-up – terms such "harsh and unwieldy" are on the press release, which also alludes to happy accidents (one of the many ingredients on which free improvisation relies, if the musicians were more honest about it). The trio have been doing it since 2010; this release deserves your attention, feels genuinely exploratory and not out to please anyone.
Ed Pinsent @ The Sound Projector
Tigers Mind trio's - Norwegian sax player Danielle Dahl, electronics player-guitarist Oslo-based Niklas Adam and drummer Thomas Eiler (from SVIN) - debut album (after a self-released EP) juggles with a kaleidoscopic mashup of electronic minimalism, punk rock, noise and free jazz. The trio began working in 2010, playing improvised music that moves in primitive, ritualistic waves between static object, sparse melodic progression and sudden, primal sonic assaults.
The opening "Magma Holtz" is actually a chilly, minimalist electronic soundscapes with subtle bursts of outworldly noises, the only pieces that do not surrender to Tigers Mind brutal assaults. Dahl leads "Uncertainty Matrix" with a tortured, high-pitched cacaphonic interplay, interrupted by Adam's atmospheric noises and distorted guitar sounds and the massive, pulse-free drumming of Eiler. The 15-minutes "Mid Haste" brings the trio unpredictable roller coaster interplay to perfection. The split overtones of Dahl clash with the metallic hammering of Eiler and are distracted by the nervous attacks of Adam. Then all three musicians realign to other fierce assaults, some more impressionist and industrial, others more dense and wild, all are highly intense.
Eval Hareuveni @ The Free Jazz Collective

Jeg har lenge tenkt jeg skulle ut på en eller annen jazzklubb i København, for å høre den norske saksofonisten Danielle Dahl, som mer eller mindre har gjort danske av seg. Men foreløpig har ikke tiden strekt til, så for å høre henne, så måtte jeg ty til en plate som kom i posten fra Japan. Sammen med Niklas Adam, som er dansk, men som har bosatt seg i Norge på elektronikk og gitar og Thomas Eiler på trommer, som vi tidligere har hørt med bandet SVIN, serverer de fem strekk på platen «Paradiso Pudding Mix».
Musikken er nok, siden det ikke forefinnes informasjon om det på platecoveret, gjort av de tre musikerne sammen, og det begynner elektronisk med «Magma Holtz». Dette er en relativt monoton sak, som i grunnen glir litt for lett forbi.
På andresporet «Uncertainty Matrix», finner Dahl frem saksofonen, og tyner ut toner som om det gjaldt livet. Det høres ut som saksofonen lider kraftig over et heftig komp. Men det er fascinerende, og vi blir sittende og lytte intenst på hva de tre foretar seg.
Og slik fortsetter det, og jeg tar meg i å tenke at dette er musikk som absolutt ikke trives på plate, men som skal fremføres live! Jeg har en idé om at dette skal høres på en litt rufsete kjellerklubb, eller for eksempel Mayhem i København, Blow Out i Oslo, eller kanskje Cafe Oto eller Vortex i London.
Musikken er jazzpunk slik den ikke er fremført på riktig mange år. Ikke siden jazzpunken hadde sin storhetstid med John Zorns Naked City i førersetet. Innimellom tar de det ned, men det hjelper ikke. Det er hele veien noe dystert, mørkt og opprørsk over musikken, som i tillegg til punkjazz også inneholder en stor del impro, uten at det blir dronete og kjedelig.
Jeg synes de tre har laget en ytterst fascinerende innspilling, som selv om den ikke vil bli spilt altfor ofte i heimen når jeg har besøk av drikkfeldige kompiser, så vil jeg nok finne den fram fra tid til annen, og prøve å forstå hva de tre vil med musikken sin. Og jeg kommer til å møte opp neste gang jeg får muligheten til å høre Danielle Dahl og de andre musikerne på 5e, Mayhem eller andre klubber i København. Fascinerende!
Tigers Mind is a trio from Denmark: Danielle Dahl (saxophones, EWI), Niklas Adam (electronics, guitar) and Thomas Eiler (drums). Eiler works on many fronts in the Danish scene of experimental music as a member of Bad Astma, Svin, a.o.. Adam moved to Oslo, where he works mainly in interdisciplinary contexts. Norwegian artist Dahl chose Copenhagen as her base and is involved in the local underground music scene, working in very diverse musical projects. As Tigers Mind they are in business since 2010 and toured in Japan, Germany, Austria and Scandinavia. 'Paradiso Pudding Mix' is there their first full-length release. Earlier they debuted with the self-released EP 'The fish Tape'. They create a music that combines electronics, improvisation and noise. They are not afraid of using many different elements and procedures, integrating radically many different influences. They play with dynamics and contrast, leading up to an eclectic music that constantly surprises. But after several listening I began to miss something. Although we are talking of excellent musicians, elaborate music, it didn't work for me. I couldn't get inside of this dazzling
music.
Ustyrlige uforudsigeligheder. Kanaliserende kanonader. Afvæbnende atonaliteter. Trioen Tigers Mind med Danielle Dahl på sax og EWI, Niklas Adam på electronics og guitar og Thomas Eiler på trommer har lavet albummet Paradiso Pudding Mix. På åbningsnummeret Magma Holtz tages vi med på en ubådstur, hvor en sonarlignende lyd bruges til at skabe illusionen af, at være nede i det dybe hav, hvor farver vi end ikke vidste eksisterede flimrer forbi vores ører. På Uncertainty Matrix bekender trioen freejazzkulør, hvor noise og punk hældes ned i freejazz gryden. Det bliver til en massiv omgang, hvor Eilers trommer buldrer frirytmisk og potent, mens Dahl sax hviner og Adams guitar lyder som dommedags-surf.
På side 2 sender trioen en hilsen til saxofonisten Christian Kyhl I form af nummeret Three-Step for Kyhl. Pladen er indspillet i december 2014, så det er ikke fordi, at Kyhl er død, at de har lavet nummeret. Det er i stedet en hilsen til Kyhls musikfilosofi. Side 2 afsluttes med den 15 minutter lange Mid Haste, som er pladens højdepunkt for mig. Her blander trioen på betagende vis freejazzen, eksperimenterende electronica med en grundlæggende legesyg nysgerrighed. Det hvirvler, bimler, knaser, brager, hyler og hviner. Pladen er udgivet af det dansk-japanske pladeselskab JVTLandt, der endnu en gang sætter en høj standard for hvordan en eksperimenterende jazzplade skal lyde.