Tigers Mind Paradiso Pudding Mix
JVT0015 (Jvtlandt, 2016)
CD / LP
12" vinyl
- Select your location under Shopping Cart to see prices -
- 価格を確認するには左のカート内にある地域を選択してください -
CD in digipak
- Select your location under Shopping Cart to see prices -
- 価格を確認するには左のカート内にある地域を選択してください -
All CD orders: FREE SHIPPING WORLDWIDE
すべてのCD:送料無料
1. Magma Holtz (06:08)
2. Uncertainty Matrix (07:35)
3. Syrian Walk (02:49)
4. Three-Step For Kyhl (03:06)
5. Mid Haste (15:52)
All music by Tigers Mind
Recorded by Martin Hoshi Vognsen and Tigers Mind
Mixed by Niklas Adam and Martin Hoshi Vognsen
Mastered by Niklas Adam
Artwork by Niklas Adam and Lasse Marhaug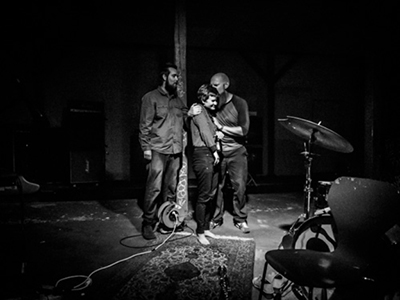 Paradiso Pudding Mix is a kaleidoscopic mashup in 5 sections drawing inspiration from early electronic minimalism, punk rock, noise and free jazz. It is shaped to be taken in as a whole; it is Tigers Mind's full-length debut following their self released EP, "the fish tape".
Scandi trio Tigers Mind plays improvised music whose aim is transcendence, via ascendant sonic assault, acting static object and sparse melodic progression. Inspired by conscious expanding techniques and ritualistic music, always aiming for tapping into the music's primitive, physical and anti-intellectual subcutis.
They present simple patterns, elegance and melody contrasted with bursts of dynamic primal explosiveness. Saxophonist Danielle Dahl uses higher harmonics and splits overtones to blend with the metallic sound of drummer Thomas Eiler's timbral explorations and tattered rhythms. Niklas Adam delivers a mix of harsh unwieldy guitar, electronic walking bass, melodic percussion and fortunate digital incidents.
Tigers Mind are interested in exploring eclectic referencing and extreme sound practices: high pitched piercing sounds, churning drones and cacaphonic free jazz. The group's sound is distilled from a broad range of influences, leading to a diverse and unpredictable universe of musical expressions.
Tigers Mind has existed since 2010 and toured in Japan, Germany, Austria and Scandinavia. The group has collaborated on stage with Margaret Unknown, Travis LaPlante, Susanna Gartmayer, Katsura Yamauchi and Mattin.
Danielle Dahl:
Norwegian composer, performer and improviser currently situated in copenhagen, denmark. She is an active figure on the danish underground music scene and is deeply involved with a diverse array of sound practices: acoustic improvised music, techno and electronic dance music, noise, songwriting, minimalism and ritualistic music, as well as working as a composer with classical ensembles, usually with a cheeky and somewhat conceptual approach to the contemporary music world. As a saxophonist she is interested in psychoacoustic phenomenons and exploring extreme extended techniques, mainly on the alto and sopranino saxophone, and she has worked with, among others, Daniel Lercher (AUT), Paul Lovens (DE), Niklas Adam (DK) and Anders Vestergaard (DK).
Thomas Eiler:
Danish drummer, resident of Aarhus. A steady voice in danish experimental music, both as a bandmember, sideman and soloist.
Loves the danish weather with its shifting seasons, collects bicycles from bits and parts, and is currently fascinated with lyrics in the native tongue, but is a lousy singer. Still trying to find the perfect mix of oil and vinegar for the marinade in homemade Ramen.
He is 1/4 of the common man's avantgarde group Svin, 1/2 of Bad Astma with Maria Bertel of Selvhenter and has worked with Frisk Frugt and many others.
Niklas Adam:
Danish artist, currently residing in Oslo. An active figure in Oslo's experimental music scene both as a musician and as an artist producing electronic and kinetic installations. His work is both demanding and patient. The last year he has mainly been occupied with interdisciplinary collective works in the context of theater, which has been performed at Brooklyn Academy of Music, On The Boards, Kampnagel among other places.