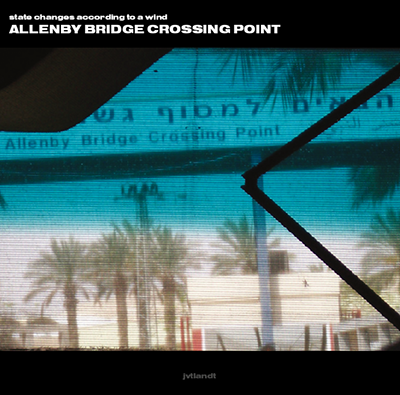 State Changes According To A Wind: Allenby Bridge Crossing Point
JVT0002 (Jvtlandt 2009)
CD in transparent jewelcase + 8 pages booklet
- Select your location under Shopping Cart to see prices -
- 価格を確認するには左のカート内にある地域を選択してください -
- FREE SHIPPING WORLDWIDE -
すべてのCD:送料無料
This part of Martin Vognsen's project State Changes According To A Wind consists of an ambitious suite, incorporating over three years of work. Digital manipulations combine improvisations by Yasuhiro Yoshigaki, Kumiko Takara and others with Vognsen's symphonic orchestrations and field recordings, creating a mix of distorted atmospheres, ambient noises and rushes of rhythm.
pt 1 [8:03]
pt 2 [7:48]
pt 3 [5:10]
pt 4 [7:00]
pt 5 [9:32]
pt 6 [14:12]
pt 7 [3:14]
pt 8 [3:23]
pt 9 [3:26]
pt 10 [8:51]
pt 11 [4:52]

total [75:34]
"...denne imponerende, storslåede, så gennemkomponerede og hele vejen igennem dragende komposition. (...) et gennemført og ambitiøst værk (...) fremstår det mildt talt originalt og bare rigtig, rigtig godt."
"(an) impressive, magnificent, so through-composed and throughout compelling composition... with Vognsen's undeniable talent as an instrumentalist in mind, but also as a welder of fragments, it appears, to say the least, original and just really, really good"
-Geiger, oktober 2010 (Danish / English auto-translation)
"...un grand projet dont deux premières parties ont paru en CD. King Hussein Bridge & Allenby Bridge Crossing Point sont deux invitations au voyage faits de field recordings et de la musique d'une formation guitare / vibraphone / batterie. Des ambiances de poste-frontières saupoudré de pop ou de folk, dans le meilleur des cas d'atmosphères nocturnes."
-le son du grisli (French)
"...en riktigt originell förening av lågmäld fri improvisation, folk, ambient, fältinspelningar, extatisk postrock och en skvätt nutida konstmusik."
"State Changes According to A Wind imponerar i sitt mod att tänka samman olika dimensioner av musikaliska möjligheter snarare än olika genrer."
"...a truly original fusion of low-key free improvisation, folk, ambient, field recordings, ecstatic post rock and a dash of contemporary art music."
"State Changes According To A Wind impresses in its courage to think together the different dimensions of musical ability rather than different genres."
-Soundofmusic, 2010 (Swedish / English auto-translation)
"...a remarkably coherent progression through a range of moods, from real-time musical interplay through a range of moods and atmospheres. "
"satisfyingly unclassifiable"
The Jazz Mann
"a unique musical observation about something those of us living in the first world may take for granted"
"there are surprise-packed performances on both discs, that slowly and patiently accumulate their affective power."
All About Jazz
"A strange multilayered and at the same time accessible work."
-Vital Weekly
- Select your location under Shopping Cart to see prices -
- 価格を確認するには左のカート内にある地域を選択してください -
- FREE SHIPPING WORLDWIDE -
すべてのCD:送料無料
Also available as download:
iTunes
...and other download stores.
Or go to our list of international shops.
---