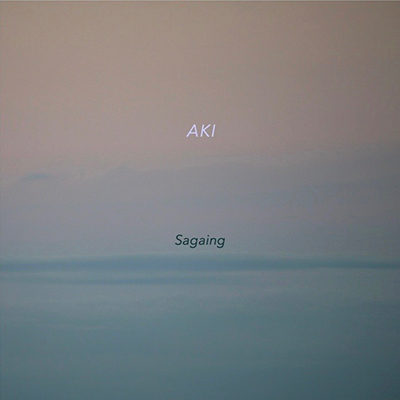 Sagaing AKI

JVT0020 (Jvtlandt 2020)

CD

Released 20/2/2020

- Select your location under Shopping Cart to see prices -
- 価格を確認するには左のカート内にある地域を選択してください -

FREE SHIPPING WORLDWIDE
すべてのCD:送料無料

1. Aki

2. Kage

3. Kitam-yu

4. Ams.

5. Far East

6. Saga

7. Kah kah




Katsura Yamauchi: Saxophone

Akinori Yamasaki: Guitar 

Hirotoshi Yonemasu: Bass on 3, 5, 8




All pieces composed by Katsura Yamauchi 

Recorded by Koichiro Satake in December 2018

Editing and mastering by Koichiro Satake

Photo and design by Katsura Yamauchi




Sagaing performs Yamauchi's original compositions, creating sounds both old and new, moving back and forth in the pulse of time and space. The groups aims to develop the internal structure of their sound, using their basic formation as a saxophone and guitar duo, with occasional addition of bass. After Yamasaki joined the group in 2018, Sagaing has frequently toured, including two tours of Taiwan and most of Japan.




Katsura Yamauchi (composition & sax)

Creator of "Salmo Sax", a fresh and sparkling music built by sound itself and cell communication. Yamauchi has performed around the world and has released released 14 albums and 3 movies. He is also the leader of Salmosax Ensemble.




Akinori Yamasaki (guitar)

Lives in Kyoto. Graduated from Osaka University of Arts. Experienced in improvisation and classical music as well as dance and theatrical music production. His first album "Red Field" was released with the support of Wire Magazine.




Hirotoshi Yonemasu (bass)

A prominent wood bassist from Oita, known for his emotional, deep and poweful playing.

REVIEWS

Japanese alto sax player Katsura Yamauchi is a unique figure in the Japanese experimental, avant-garde scene. He comes from the industrial town Beppu, far from the traditional creative centers in the bigger cities of Japan. He picked up the saxophone in the early seventies while he was in his early twenties, but only in 2002 he quit his day job and dedicated himself fully to music. He has developed a highly original approach, investigating his instrument's nuanced sonic properties as a vehicle for transforming and mutating breaths and spare blows.

The duo Aki, with guitarist Akinori Yamasaki, often a trio with bass player Hirotoshi Yonemasu, performs Yamauchi's original compositions, focusing on sounds moving back and forth in the pulse of time and space. Saging is the debut album of Aki, recorded in December 2018 after Yamauchi and Yamasaki completed tours in Taiwan and Japan. Yamauchi also photographed and designed the cover art.

The music of Aki moves in clear, modest, melodic lines, creating its very personal sonic universe that explores how the minimalist gestures spread gently and patiently in space, but it is devoid of sentimentalism. The interplay of Yamauchi and Yamasaki sounds totally intuitive, growing and branching naturally and finds its own melodic core in its unhurried pace. The addition of Yonemasu on three pieces adds a subtle rhythmic layer.

This kind of music certainly has some therapeutic values in our troubled times.