Following his successful solo-project Frisk Frugt and a decade of doing adventurous music and art projects in the yoyooyoy collective, composer, guitarist and eccentric multi-talent Anders Lauge Meldgaard has put the full force of his creative power into the mysteries of the electric guitar, bringing us his most epic creation to date.

The idea for the guitar sextet sprung while Meldgaard was traveling through Mali and Burkina Faso and encountering the local music. Much impressed by the simplicity, discipline and tightly knit collaboration of the musicians he witnessed, Meldgaard decided to explore a similar strategy for the electric guitar. The result takes minimal compositions, based on extended repetition and microscopic - yet danceable - grooves, as a departure point for climactic improvisations. Invoking, perhaps, as much the minimalism of Steve Reich as the cathartic rhythms of Konono No. 1, approaching even progressive psychedelia.

"Music For Six Electric Guitars" premiered at the Copenhagen Jazz Festival in 2010 and has since toured both Japan and Germany, as well as giving various appearances in Denmark. Gathering a team of highly respected guitarists from the Danish avant-garde and rock scenes, Meldgaards music is interpreted by a towering amount of talent from groups such as Pinkunoizu, Kalle del Hey, State Changes According To A Wind, Skammens Vogn, Joy L, Lily Electric, Shiggajon and others.

The material for this LP was produced over a one year period of intense work - with recording sessions in Copenhagen, Berlin and Oita - leading to a dense, multilayered creation of equal beauty and playfulness. As the title of one of the tracks lays it out, it's a bicycle ride straight to the sun.
A:

No. 1 Slide i en kuppel (1:42)
No. 2 Bubbletyggegummiboble PART 2, 3 & 4 (11:02)
No. 3 Med klaverkøller som John Lennon (6:04)

B:

No. 4 Chuck Berry (2:24)
No. 5 På cykel mod solen som et ekkolod II (9:30)
No. 6 Heliotropisk musik (1:43)
No. 7 Bubbletyggegummiboble PART 6 (2:50)
No. 8 C Heavy (3:01)





Guitars:

Oliver Hoiness
Andreas Pallisgaard
Claus Haxholm
Martin Vognsen
Andreas Führer
Laust Færch
Kasper Vang
Tobias Fuglsang Mynborg
Anders Lauge Meldgaard

All music composed by Anders Lauge Meldgaard
- Select your location under Shopping Cart to see prices -
- 価格を確認するには左のカート内にある地域を選択してください -
FREE SHIPPING if you order more than one item from our catalogue.
商品2点以上の購入で送料無料。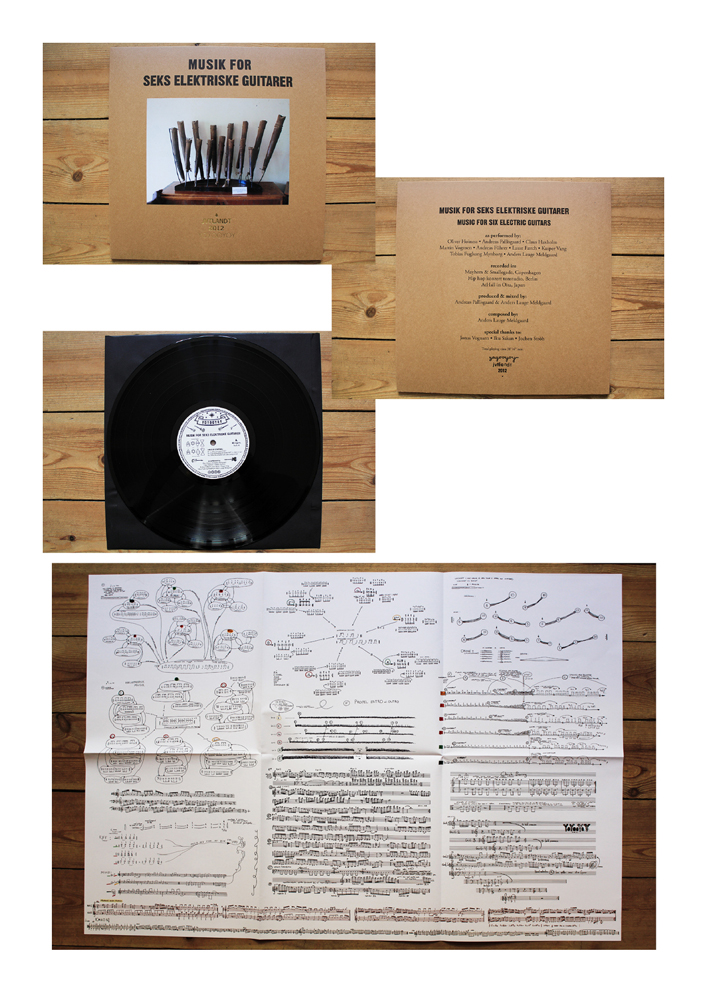 "I love it when I listen to guitar music and don't always understand how the sounds were made, as it spins my mind off into fantasies of invention. I similarly love listening to a composition which is clear and confident, but whose backstory, or meta-story is mysterious, and invites me into the composer's mind. Musik for Seks Electriske Guitarer succeeds on both points. It is an exceptionally lucid journey through the sonic possibilities of the electric guitar, framed in a beautifully structured 38 minute composition. Proud sounds, sensitive fabrics, clear architectures… this generous music tosses new mysteries into a world that needs more of such beautiful things."
- Nick Didkovsky, Aug 30, 2012, New York City
"Flipping brilliant (...)The piece was first performed at the Copenhagen Jazz Festival in 2010 and this live honing of the music has led to a very visceral set of tracks with howling climaxes that bring to mind Loop, early Spiritualized and Sonic Youth. (...) essentially it works so well because it succeeds in being all (cool) things to all (cool) people. It is at once a musicianly demonstration of multiple guitar techniques, a joyous ride through sunbursts of tuneful electronic guitar, placed somewhere between African high life, 20th century minimalism and avant rock and an exposition of a brilliant compositional mind at work."
"...the balancing act between academic nerdery and plain musical exitement is rarely performed better by any Danish musicians. A record which is at the same time infectious with it's playfulness and joy of playing and impressive with its overwhelming musical exuberance."✶ ✶ ✶ ✶ ✶
"A highly inventive and playful journey into the mysterious sonic possibilities of the electric guitar. (...) These multi-layered compositions navigate playfully and methodically into their cathartic, noisy and chaotic codas."
"...modern guitar-based music in a constantly expanding field of possibilities from Anders Lauge Meldgaard and a magic circle of guitarists (...) One has the impression of a collective effort where the end sound is greatly influenced by the different personalities of the musicians and their equally different approaches to the instrument. Simultaneously one clearly senses the signature sound of Meldgaard in the bouncing and ecstatic eruptions, sure to delight fans of his "Frisk Frugt" project. Here the guitar is released from both clichés of rock and from blasé avant-garde strategies. What remains is a joyful toying with the field of possibilities of the electric guitar. This is how you cut a good guitar record."
"The long track "På cykel mod solen som et ekkolod II" finishes in ecstasy and is simply stunning. (...) The pieces are well played and super tight. They spread as much humor as they do earnestness."
DR P6 Beat - interview / foto / score / video
Anders Lauge Meldgaard is a founding member of the yoyooyoy collective, which also includes Yoke & Yohs, Lights People, Johns Lunds, Stof, Havens Fugle, and other projects. He is part of Slütspürt, co-founder of the eclectic big band Den Nørrejyske Ø's Stororkester For Opløst Mønster Musik and has performed at the Roskilde Festival, Jazzjuice Festival, Transmediale Festival and toured Europe, USA and Japan. In 2010 Meldgaard released, as his solo project Frisk Frugt, the album "Dansktoppen møder Burkina Faso i det himmelblå rum hvor solen bor, suite" leading to great critical and audience acclaim, including a nomination for the Nordic Music Prize in 2011.
---
---
Musik For Seks Elektriske Guitarer feat. Muneomi Senju - Scandinavian tour 2013
Musik For Seks Elektriske Guitarer - Japan Tour 2011