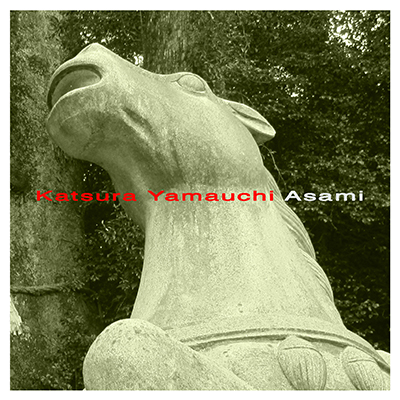 Katsura Yamauchi Asami
JVT0004 (Jvtlandt 2010)
CD in 4 panel jacket
- Select your location under Shopping Cart to see prices -
- 価格を確認するには左のカート内にある地域を選択してください -
FREE align:left">The remarkable musician and composer Katsura Yamauchi performing on his own and - for the first time on CD - leading a group of fellow saxophonists. Yamauchi's solo consists of serene compositions and deeply focused improvisations with a gentle sense of tone and time. The ensemble premieres the idea of "semi-automatic improvisation", a system created by Yamauchi, in addition to expressive tunes and a beautiful ballad, all merging the abstract and the familiar.
Compositions and arrangement by Katsura Yamauchi (山内 桂)
Katsura Yamauchi: Sopranino and alto saxophones
Salmosax Ensemble workshop members:
Chiharu Mizukawa, Kota Furusawa, Shiori Teshima, Yoshiomi Shuto, Yuka Takemoto
Recorded at Asami shrine in Beppu, Japan, May 24th, 2009.
Mastering and design: Martin Vognsen
Salmosax solo:

1. Chikushi [8:17]
2. Hi, [2:42]
3. Improvisation [15:48]

Salmosax Ensemble:

4. Shijima [5:42]
5. Shizuku [2:53]
6. Duck [0:42]
7. Who? [5:04]
8. Far East [4:47]
9. Kage Ballad [2:23]

total [48:12]
"Yamauchi displays formidable purity of conception..."
The Jazz Man


"...en imponerende, dybt fascinerende, virtuos og original instrumentalist... kolossalt kraftfulde kompostioner... En meget gennemført udgivelse."
"An impressive, deeply fascinating, virtuosic and original instrumentalist... compositions of colossal power... A very consistent release."
-Geiger, oktober 2010 (Danish / English auto-translation)

- Select your location under Shopping Cart to see prices -
- 価格を確認するには左のカート内にある地域を選択してください -

Katsura Yamauchi (b. 1954)

"Katsura Yamauchi is really both a new and a veteran artist... I am greatly refreshed by his energetic and confident performance."

- Otomo Yoshihide, July 2003
---